Hello all
Now I have relocated its time to start getting back into ants ( and maybe more and bigger).
I have started a new build diary with the aim to regularly post and include stuff that is going to get made or is process of.
So hopefully for starters we have the new Robototron: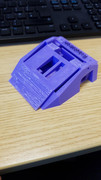 Based of Brestroyer (made by work buddy Joe) this is my first Robototron to sport a proper weapon. (Mk 4 had one but was removed about 2 seconds into its first fight a few years ago)
The Tracked version that was at AWS 60 is now gonna be the basis of my first spinner, Djent.
Not sure if Robototron will self right at the moment but plan is to get it built up and see what works.
More to come i hope. Once all the bits are in this shell I will show it in all its glory.