Thought I would start a topic on Bruce,as I am going to start again with him.
Hope no one minds.

I have stripped off all the bodywork,and had a look at the drive servos,as it has been possibly as much as 10 years sinc the last time they were looked at properly.
The label is long since gone,but they are fairly unique servos,due to the molding where the shaft exits.
I can't honestly remember the exact mod,but the lego output shart is epoxy'd onto one of the gears,and I think that at least 2 reduction gears have been removed,and there is a 3mm nut used as a washer to fill the space where the gears used to be...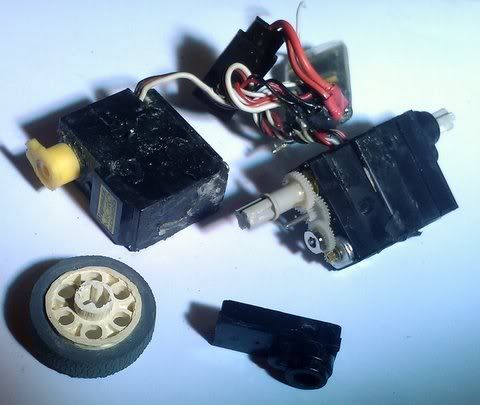 I am going to rebuild Bruce in a similar fashion,but with an eye on being a little more robust,(hopefully!)

Cheers,James